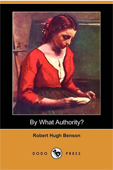 Robert Hugh Benson
By What Authority?
Editor:
Dodo Press
Year:
2007
Pages:
560
(The book is also available for purchase through Barnes and Noble)

For Great Keynes, as for most English villages and towns at this time, secular affairs were so deeply and intricately interwoven with ecclesiastical matters that none dared decide on the one question without considering its relation to the other; and ecclesiastical affairs, too, touched them more personally than any other, since every religious change scored a record of itself presently within the church that was as familiar to them as their own cottages.
On none had the religious changes fallen with more severity than on the Maxwell family that lived in the Hall, at the upper and southern end of the green. Old Sir Nicholas, though his convictions had survived the tempest of unrest and trouble that had swept over England, and he had remained a convinced and a stubborn Catholic, yet his spiritual system was sore and inflamed within him. To his simple and obstinate soul it was an irritating puzzle as to how any man could pass from the old to a new faith, and he had been known to lay his whip across the back of a servant who had professed a desire to try the new religion.